here it is at last-
mp3-
http://www.megaupload.com/?d=J5JTVFKK
flac- disc 1-
http://www.megaupload.com/?d=M5SSH4VA
disc 2-
http://www.megaupload.com/?d=P4G72ZJG
and some really nice cd art that iamcims from the keep music evil forum made that's worth downloading if you intend to burn cds.
http://www.megaupload.com/?d=8VL1ARC0
a few notes- 'whoever you are' and 'vacuum boots' are a bit peaked- i had the level set too high at the beginning of the show, but this problem is fixed after those two songs. also, the new song (the one with the sampled drumbeat)- it's listed just as 'new song' in the mp3s zip file and 'someplace else unknown' in the disc 1 flacs zip file- is actually called 'someplace else i know.' i would change it and reupload but that seems like a lot of to-do to just fix some song titles and i spent soooooo fucking long getting these files uploaded that i'd rather not go through that again (the two flac zip files took a total of about 20 hours to upload).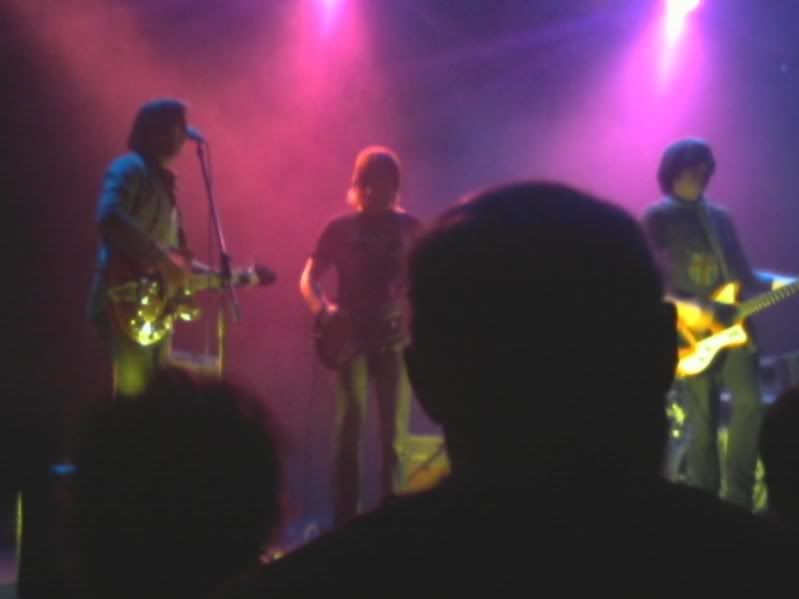 this pic isn't from the metro- but i love the dreamy quality so much that i stoled it (well someone posted it on a webforum so that to me means that the love is being shared).
about the show- if you are hesitant to download the show for fear that you might be in for a slightly sloppy set with copious amounts of stage banter and drama then may your fears be allayed- this is the bjm at the absolute height of their professionalism. the set is lengthy, but also ridiculously tight and not to mention that the setlist is all over the place. speaking of the set list here it is-
1. whoever you are
2. vacuum boots
3. b.s.a.
4. nevertheless
5. when jokers attack
6. sailor
7. someplace else i know
8. got my eye on you
9. servo
10. yeah-yeah
11. that girl suicide
12. hide and seek
13. not if you were the last dandy on earth
14. anemone
15. the serious matter
16. who?
17. telegram
18. wisdom
19. soundscape
20. oh lord
21. nailing honey to the bee
22. here it comes
23. pre fab ambulation
24. satellite
25. swallowtail
the line-up was eight-strong- all of the best in bjm over the years. collin hegna on bass, matt hollywood on guitar, joel gion, rob campanella on guitar and keyboards, frankie teardrop on guitar, dan allaire on drums (the best bjm drummer rivalled probably only by brian glaze) and ricky maymi on guitar. it was really fantastic. i'm not sure why the sudden burst of professionalism- they are normally gloriously shambolic and anton newcombe is normally quite drunk during their shows- but i'm not going to complain. at some point i was wondering to myself what they would sound like if they were incredibly well-rehearsed and tight during their shows and this is the answer. they walk the line very nicely- tight but not at all rigid. just focused and assured. is anton trying to prove all of his naysayers wrong? in my mind all signs point to 'yes.' i think this answer would also suffice for the question of whether or not he has succeeded in proving his naysayers wrong. i am particularly fond of the write-up they got in 'time out' that pointed out the irony of the bjm's longevity versus their reputation (i.e. idiots who just go to see them play to see them be a dysfunctional trainwreck). they've been releasing records for almost fifteen years now and the quality is showing no signs of dipping at all. i wasn't that jazzed on 'my bloody underground' until i bought it on vinyl and listened to it that way a few times- it's unique amongst everything else they've done and it's drenched in fresh ideas and energy.
at this show i heard nearly every bjm song i've ever wanted to hear before- 'wisdom,' 'anemone' and 'that girl suicide.' no 'wasted'- they've been doing that one lately. that's the only thing they've been doing that i didn't get to hear- but it's on several live recordings making the rounds. plus i saw them do 'evergreen' and 'a new low in getting high' on the 2006 trip. i recorded that too but it didn't turn out well at all- kind of a bummer. they also played 'here it comes' again- a beautiful song. this time was undoubtedly the best time we've seen them play- and that's saying a lot. i am still a bit green that i wasn't able to record the first time we saw them- which was also at the metro back in 2005. that show was them at their stretched-out best. they only played about 10 songs in over two hours but it was amazing.
so good night and good luck people. enjoy the show. it will probably be the last one that i record for quite a while- i'll probably record the spectrum show in may.